Handmade Jewellery For All Occasions With Beach Art Glass
Explore our collections of luxury handmade jewellery, all made by hand in the UK. Our glass rods are imported from the Isle of Murano, Italy, and we use the lampwork technique to melt and mould the glass into beautiful shapes and designs that replicate everything we love about the sea. We handcraft each detail with care to create your treasure that will last a lifetime.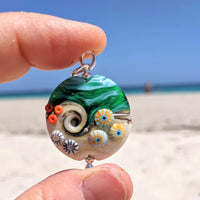 Discover Our Handmade Beach Jewellery
With a variety of different designs and collections to explore, you'll be able to easily discover all the aspects of the beach that you love and wear these memories as jewellery in our beautiful designs. Our handmade beach jewellery includes themes such as Sea Spray, to remind you  of the waves breaking on the shore, or Frosted Sea, which is inspired by cool, clear waters. 
Explore our ever-evolving collections below to learn more about our designs and vibrant colours.
Red Cross Appeal
£5 from the sale of every Love Token clip-on charm will be donated to the Red Cross Israel and Occupied Palestinian Territory Appeal throughout Autumn 2023.
Love Token Clip on charm
New Collection
Beachcomber
A contemporary new Beachcomber collection of handmade glass and silver jewellery in 4 beautiful colours and choice of glossy or frosted finish.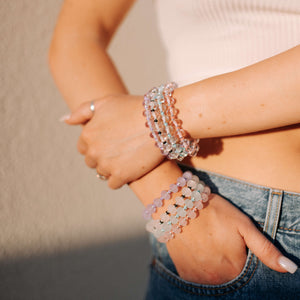 Our Collections
We have eight core collections: Sand & Sea, evokes sunny days on the beach; Deep Sea, creates stunning contrasts with glossy turquoise and teal glass; Sea Spray, inspires images of waves breaking on the shore; Sea Mist, has a dreamy quality set in a lavender ocean haze; Turning Tides, decorated with recycled glass and supports Ocean Generation charity with every sale; Sea Breeze, reminds us of crashing waves and crisp blue skies; Frosted Seas, a timeless collection inspired by cool, clear waters; and Shoreline, a collectable range in 17 vibrant colours.
Testimonials
Received my two piece's today. They are both for my sister's birthday and they are just beautiful she will love them . Thank you so much your work is amazing.

★★★★★

Samantha

I have to say, I am a little addicted to Beach Art Glass, just love this beautiful jewellery!




★★★★★

Vivienne
A stunning collection of designs and beautiful colours with so many to choose from. The only problem I have is knowing which one to wear!



★★★★★

Hannah
How Do We Create Our Handmade Beach Jewellery?
British glass artist Julie Fountain creates unique glass beads and pendants entirely by  hand using the lampwork technique, melting, shaping and decorating glass rods in a flame.  Working with glass rods imported from Murano, Julie melts, shapes and decorates the molten glass in a flame to create every bead one at a time. We  create the highest quality jewellery for your timeless pieces. 
All our sustainably-sourced silver is crafted by our British silversmith. If you prefer gold, we offer an upgrade option for our bespoke jewellery to be crafted in 9 carat gold. 
Every piece is created one at a time, every piece is unique.
"I want my jewellery to remind you of places you love and memories you treasure, or inspire you to take the next trip, see the world and feel the sand between your toes."   Julie Fountain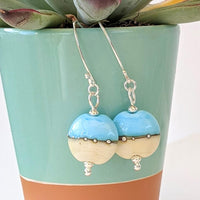 Treasure Chest
The treasure chest is regularly updated with new and unique Beach Art Glass items.
All our jewellery is beautifully packaged and presented. We can send gifts direct to your loved one with a handwritten card for no extra charge.
Sign up to our mailing list below to hear when more treasures are added.
Take a Look
Make it really special
All our pendants, charms and earrings can be upgraded to 9 carat handmade gold findings.
More Information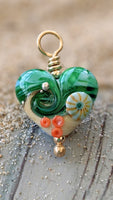 An award winning business
Read more about the people behind the Beach Art Glass brand, see how we make our show stopping jewellery and even book a workshop to make your own glass beads
Choose a link below for more information
Have a Go!
Come and learn how to make glass beads with me, in my Malvern studio.

"Thank you for an amazing morning and for your wonderful instruction….. I think I have the bug 😊…….
We all hope to come back very soon." Michelle R.
Learn More